Grand News
GRAND PLASTIC SURGERY
Grand Plastic Surgery, Operation room CCTV System for Patients.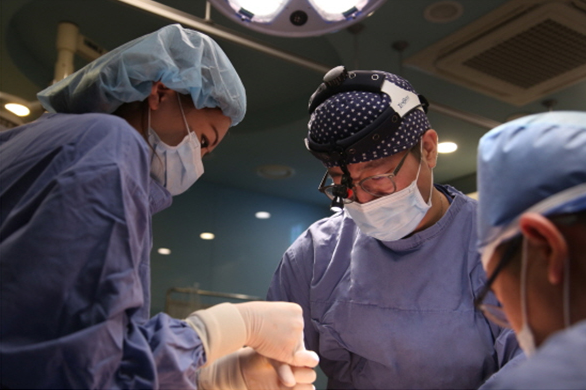 Various plastic surgery procedures such as eyes or nose are being carried out for the cosmetic purpose of appearance change and to overcome personal insecurity.
However, cases of accidents in the operation room is also occurring and therefore, a bill is being discussed to make it mandatory to install CCTVs in operating rooms for safety.
Grand Plastic Surgery operates a CCTV observation system that allows patient's guardian to monitor the surgery room throughout the full process of surgery to protect the patient's right and relieve anxiety for both patient and guardian.
The CCTV observations system allows the guardian to monitor the surgery during it is being performed from the start to finish.
Monitoring system is provided for the purpose of preventing the emergency situations that may occur during anesthesia and for higher responsibility of the surgeon.
Also, for the patient's rights and mental stability.
Even if it is a relatively simple and performed on a small area, patients and guardians feel anxious when they enter the operating room.
Spending a tense time reduces the patient's and guardian's mental stability, so the guardian can monitor the progress of the surgery his or herself through CCTV monitoring system and the patient can also feel stable.
CEO Rhee Sewhan, M.D of Grand Plastic Surgery said "Since safety and mental stability of patients are important in plastic surgery, we want to enhance the mental stability of patients and guardians through CCTV operation in the surgery room. Medical team of Grand also wants to promote accountability and mutual trust in health care.
Grand Plastic Surgery is operating the CCTV monitoring system along with Surgeon's real-name surgery system to eradicate ghost surgery.
---
No
Title
30

Grand Plastic Surgery implementing continuous COVID-19 quarantine m...

2020-10-06

29

Grand Plastic Surgery, Patient Protection with operation room CCTV ...

2020-10-06

28

Grand Plastic Surgery, COVID-19, Self-Responsive Manual Education f...

2020-08-29

27

Grand Plastic Surgery Campaigns to Eliminate Ghost Surgery and Prot...

2020-08-28

26

Grand Plastic Surgery, Resonds to the upgrading of Covid-19 Social ...

2020-08-27

25

Grand Plastic Surgery COVID-19 Strict Response to Proliferation

2020-08-24

24

Grand Plastic Surgery prepares best measures for patient safety in ...

2020-08-24

23

Grand Plastic Surgery, Operation room CCTV System for Patients.

2020-08-07

22

Grand Plastic Surgery, operating CCTV in the surgery room and condu...

2020-08-06

21

Grand Plastic Surgery, CCTV operation and campaign to eradicate gho...

2020-08-03

20

CCTV operation, 1:1 customized care needs to be checked before havi...

2020-07-28

19

Grand Plastic Surgery, strengthening its quarantine system and oper...

2020-07-20

18

Generation in their 50s and 60s who want to look younger, has a hig...

2020-07-18

17

Inquiry regarding nose tip surgery increases due to extended time f...

2020-07-05

16

Grand Plastic Surgery, increasing inquires due to COVID-19 emergenc...

2020-06-30

15

Grand Plastic Surgery Clinic conducts temporary Video Consultation ...

2020-06-24

14

Grand Plastic Surgery, responding to the spread of COVID- 19 linked...

2020-06-18

13

Open recruitment in Grand Plastic Surgery, Web Designer and Video E...

2020-06-15

12

Grand Plastic Surgery, continuous prevention of COVID-19 by providi...

2020-06-07

11

Grand Plastic Surgery offers Accommodation Service for overseas and...

2020-06-01