Grand News
GRAND PLASTIC SURGERY
Grand Plastic Surgery COVID-19 Strict Response to Proliferation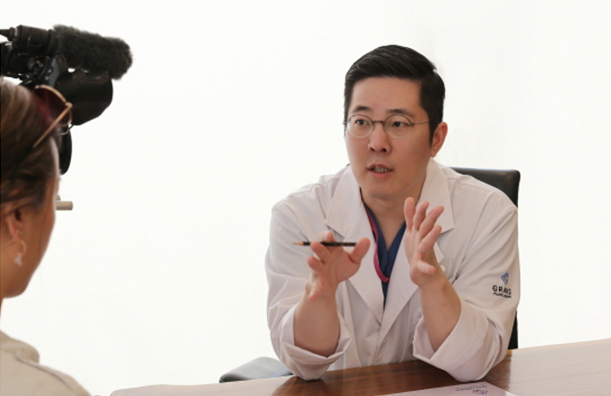 As the number of confirmed COVID-19 patients in Korea has increased by more than 200 every day, measures are being taken to prevent re-proliferation, including sporadic infections in the Seoul metropolitan area and regions and inflow into foreign countries.
Grand Plastic Surgery said on the 24th of October, that it is operating a thorough quarantine system to prevent the spread of corona as there are concerns of a recurrence.
To prevent the spread of COVID-19, all employees of Grand Plastic Surgery are using hand sterilization and wearing masks, while working in the clinic and treating customers, and have hand sanitizers on all floors of the hospital.
It has also prepared an air purification and sterilization system in the National Assembly to cope with the virus infection.
All employees, including medical staff, refrain from going out to various gatherings outside of working hours in accordance with the COVID-19 behavioral guidelines and work at home at least once a week for health care.
At the same time, all employees and visiting customers were allowed to enter the clinic after checking their body temperature and filling out a health check list.
COVID-19 goes through an incubation period of about 2-14 days (estimated) when infected, followed by fever (37.5 degrees), respiratory symptoms such as coughing or difficulty breathing, and pneumonia, but there are also rare cases of symptoms-free infection. Even during incubation periods when symptoms do not show, they are contagious, so even if there are no special symptoms, individual hygiene such as masks should be thoroughly carried out and health care should be taken care of for everyone.
CEO Rhee Sewhan, M.D , the head of Grand Plastic Surgery, said, "While the number of COVID-19 confirmed cases continues to increase in the Seoul metropolitan area, the main body is taking strong countermeasures by systemizing the health of medical staff and all employees to quarantine the floor in order to prevent confirmed cases. We will continue to do our best to prevent COVID-19 crisis and re-proliferation through health care and frequent health checks, including disinfection, quarantine and personal hygiene.
---
No
Title
30

Grand Plastic Surgery implementing continuous COVID-19 quarantine m...

2020-10-06

29

Grand Plastic Surgery, Patient Protection with operation room CCTV ...

2020-10-06

28

Grand Plastic Surgery, COVID-19, Self-Responsive Manual Education f...

2020-08-29

27

Grand Plastic Surgery Campaigns to Eliminate Ghost Surgery and Prot...

2020-08-28

26

Grand Plastic Surgery, Resonds to the upgrading of Covid-19 Social ...

2020-08-27

25

Grand Plastic Surgery COVID-19 Strict Response to Proliferation

2020-08-24

24

Grand Plastic Surgery prepares best measures for patient safety in ...

2020-08-24

23

Grand Plastic Surgery, Operation room CCTV System for Patients.

2020-08-07

22

Grand Plastic Surgery, operating CCTV in the surgery room and condu...

2020-08-06

21

Grand Plastic Surgery, CCTV operation and campaign to eradicate gho...

2020-08-03

20

CCTV operation, 1:1 customized care needs to be checked before havi...

2020-07-28

19

Grand Plastic Surgery, strengthening its quarantine system and oper...

2020-07-20

18

Generation in their 50s and 60s who want to look younger, has a hig...

2020-07-18

17

Inquiry regarding nose tip surgery increases due to extended time f...

2020-07-05

16

Grand Plastic Surgery, increasing inquires due to COVID-19 emergenc...

2020-06-30

15

Grand Plastic Surgery Clinic conducts temporary Video Consultation ...

2020-06-24

14

Grand Plastic Surgery, responding to the spread of COVID- 19 linked...

2020-06-18

13

Open recruitment in Grand Plastic Surgery, Web Designer and Video E...

2020-06-15

12

Grand Plastic Surgery, continuous prevention of COVID-19 by providi...

2020-06-07

11

Grand Plastic Surgery offers Accommodation Service for overseas and...

2020-06-01