Home
Breast
Breast Augmentation - Bella Gel SmoothFine
GRAND PLASTIC SURGERY
BellaGel SmoothFine
Breast
Augmentation

Just like your own
What makes
BellaGel SmoothFine so special?
01
'BellaGel SmoothFine' is developed based on strict
international guideline
BellaGel SmoothFine is a safe breast implant that has passed 20+ tests including rupture, fatigability, tensile strength, etc.
02
Feels like your own breasts,
natural curve
Cohesive Silicone Gel that is used in BellaGel SmoothFine is excellent in cohesiveness and viscoelasticity which makes it possible to make the felling and shape of breast just like your own.
03
Customization fit infemale body structure and
characteristics
3 different shapes and various sizes available. Optimized to body movement that maintains the beautiful breast shape under any circumstances.
04
Surgery using 3D FULL-HD Endoscope Minimization of
scarring & capsular contractor
Precise surgery is operated by using 3D full HD endoscope to minimize the scars and possibility of capsular contractor.
Natural curve like your own & Soft feeling
BellaGel SmoothFine
Types of anesthesiaGeneral Anesthesia

HospitalizationSame-Day Discharge
After the surgery
BellaGel SmoothFine is a nanotextured breast implant that only combined the advantages of traditional round and teardrop type of implants. Its natural movement and great viscoelasticity are what make it special and natural breast shape and elasticity are implemented even when lying down or during exercise.
BellaGel SmoothFine is a Piece of Art.
Advanced texturing technique for high-affinity binding of human tissues
Bellagel SmoothFine is the new name of Bellagel Micro,
which reflects the International Standards Organization ISO regulations.
Natural Shape
Soft feeling
Natural shape
Safety Technology
Low possibility of capsular contracture
BellaShield consists of five layers to prevent gel bleeding.
BellaGel SmoothFine Speciality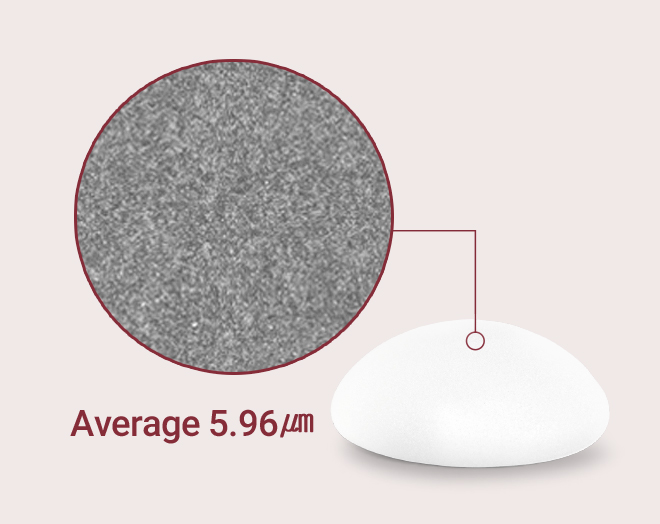 Exquisite, Smooth Surface
Exquisite, smooth surface consisted of surface bumps that are aprx. 5.96 μm in average
Creation of soft movement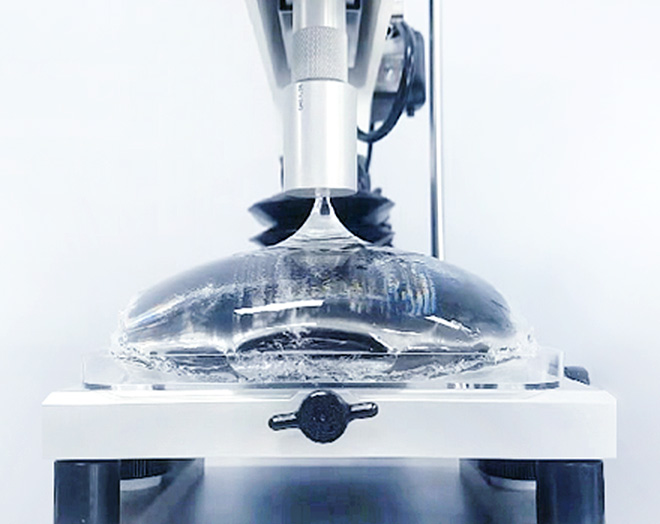 Excellent Viscoelasticity and Cohesiveness
'Cohesive Silicon Gel,' excellent in viscoelasticity and cohesiveness, is used as raw material.
Natural movement almost identical to natural breasts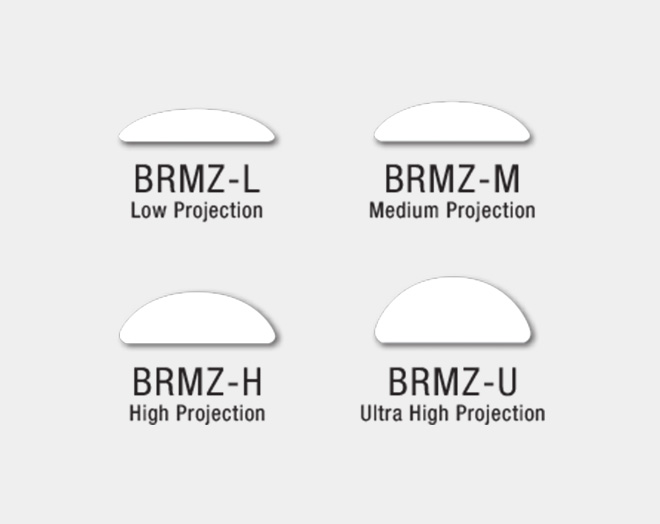 Sizes by body types
Various standards available according to female body structure
Customized surgery planning by body types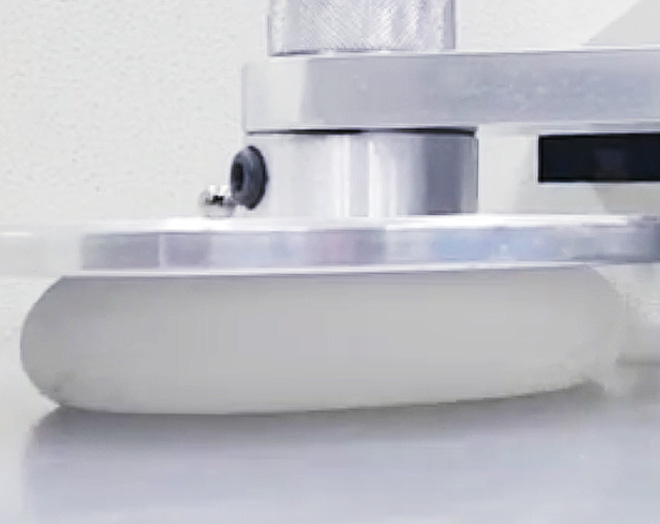 Strict production process & Highest quality
Strict production process based on international guidelines
Quality test completion in fatigability, intensity, and impact
Real Feeling of BellaGel
See from the video clip.
BellaGel SmoothFine Q&A
Q.

What is BellaGel SmoothFine?

BellaGel SmoothFine is made out of more detailed materials comparing to existing textured implants. It dispenses a shape that is close to natural breasts by natural unity with body tissues.

Q.

What differentiates BellaGel SmoothFine
from exiting version?

New type of breast implants that are improved from the shape and feeling of existing BellaGel. Soft gel and characteristic of its surface make the shape of natural breasts. It changes into round shape when lying down and teardrop shape when standing.

Q.

BellaGel SmoothFine, is it really safe?

Raw materials used for BellaGel SmoothFine are approved by Korean Ministry of Food and Drug Safety which makes the product safe. Only the products that have passed over 20+ mechanical tests such as rupture, fatigability, tensile strength, etc. in accordance with strict international guideline to make the safety as priority of patients.


Pass over 20 Mechanical Tests
BellaGel SmoothFine is for those
Whose rib cage is small or has a skinny body type
Who care about feeling, movement, and safety
Who has very little breast tissues
Who has thin skin
Considering a revision breast surgery

Warranty
Grand Plastic Surgery offers Lifetime Warranty for those who had a surgery with BellaGel Micro implants.
Replacement of implants is free of charge if any defect of implants is noticed after surgery.
Same Implant, Different Outcome
Grand Breast Surgery Techniques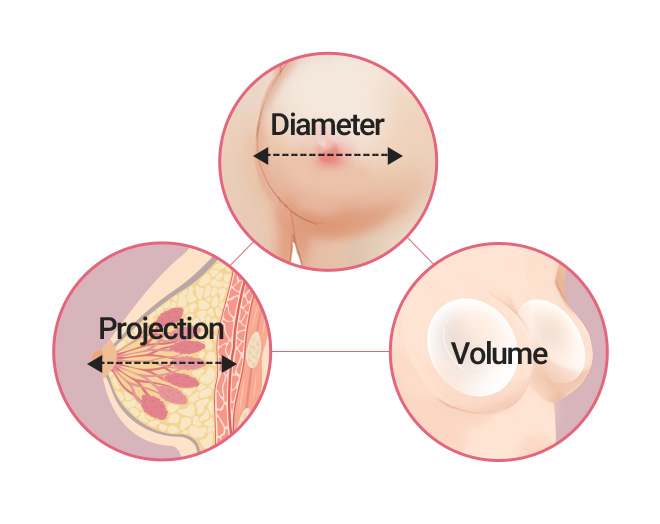 01
Customized Design considering harmony and balance
Customized implants considering 3 main factors, diameter, projection degree, and volume, with delicate designing complete natural, tightened breasts.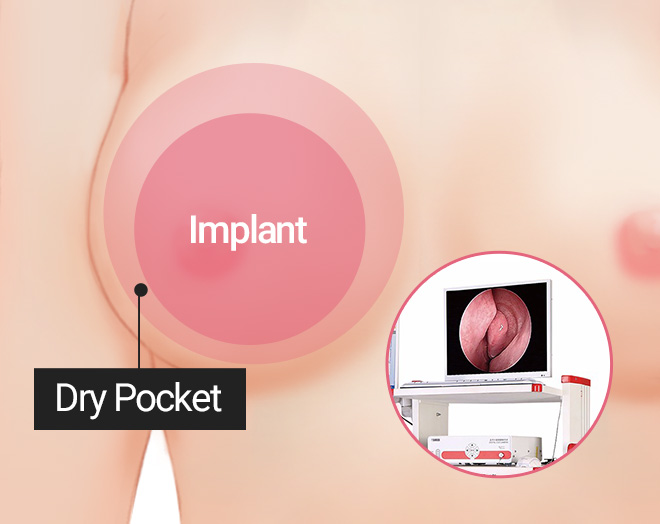 02
Full HD Endoscopy makes dry pocket
Instant checking with eyes through endoscope, minimize the damage to surrounding tissues, and making a dry pocket where the implant is inserted so that capsular contractor is prevented and natural movement and feeling are possible.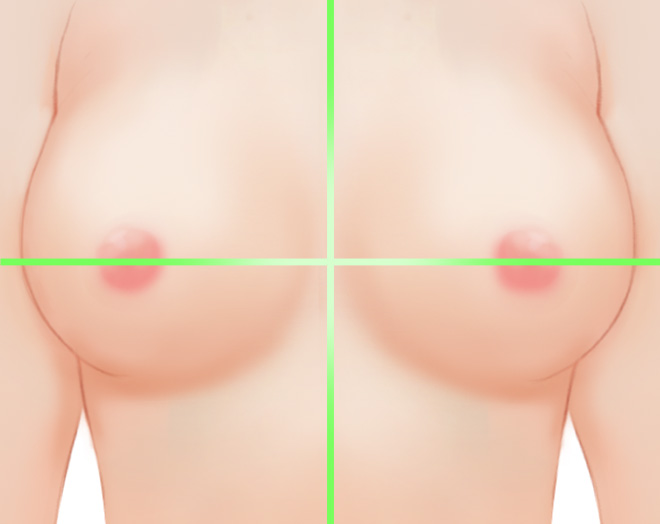 03
Laser level that improves the asymmetry
In order to not have asymmetry after breast augmentation, precise surgery is performed by using laser level.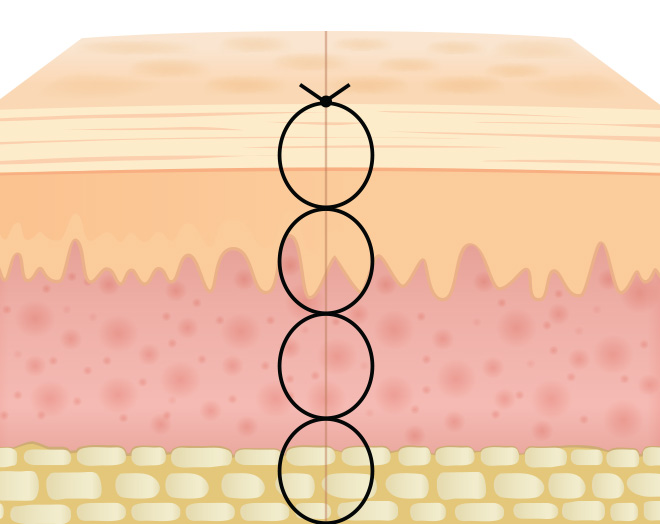 04
Quadruple stitching to minimize scarring
In order to minimize the scarring after breast surgery, surgery is planned by stitching method the most suitable to individual condition and quadruple stitching maintain it even safer.
'Better Together'
Grand Breast Surgery Package
Completed system with the latest
medical equipments
GRAND offers the most
advanced techniques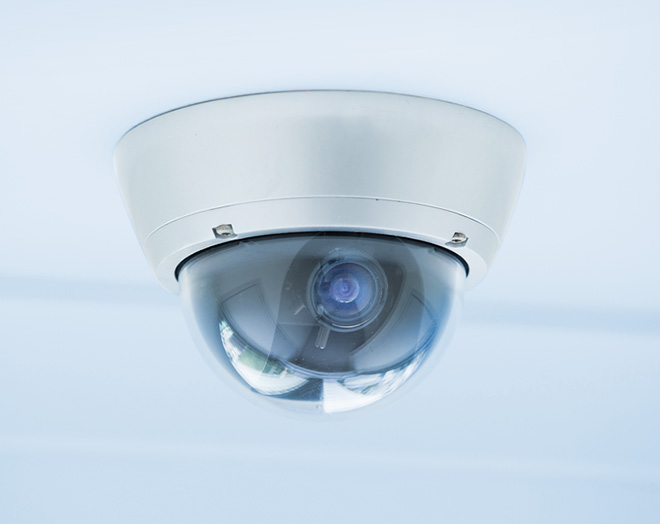 CCTV Observation
System
The guardians who have agreed in advance can observe the entire operation process in real time at CCTV observation room.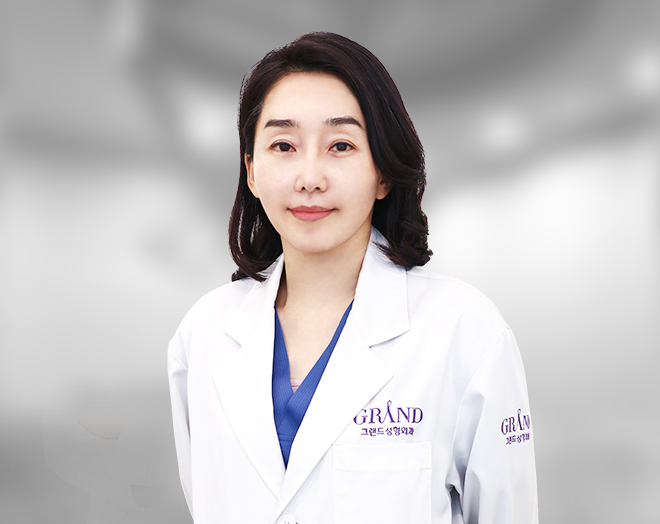 Stationed
Anesthesiologists
Anesthesiologists who were former university professor is present during the surgery and real-time monitoring system is equipped to check all possible situation during general anesthesia.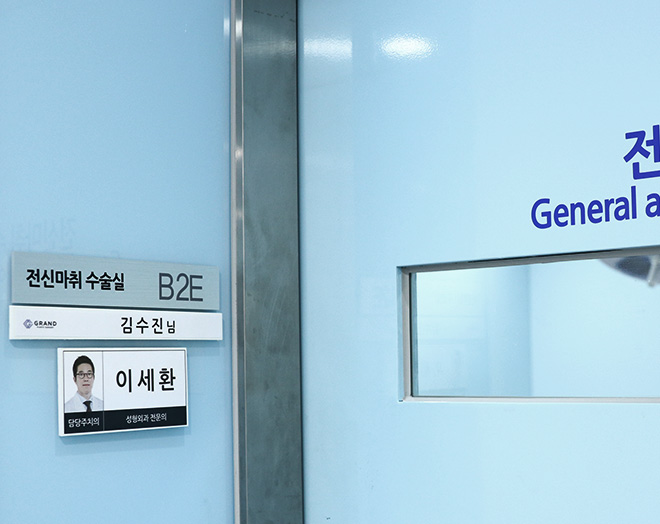 Surgery real-name
system
All the medical staffs at Grand Plastic Surgery are conscientious. Patient's surgeon will be in charge of the entire process from consultation to surgery and post-operative care to prevent damage from ghost surgery and substitute surgeon.
Emergency system fully
equipped
Grand Plastic Surgery operating rooms are fully equipped with a University hospital-level safety system, including a cardiac defibrillator for emergencies, an emergency kit, and a UPS self-generating power system in case of a power outage.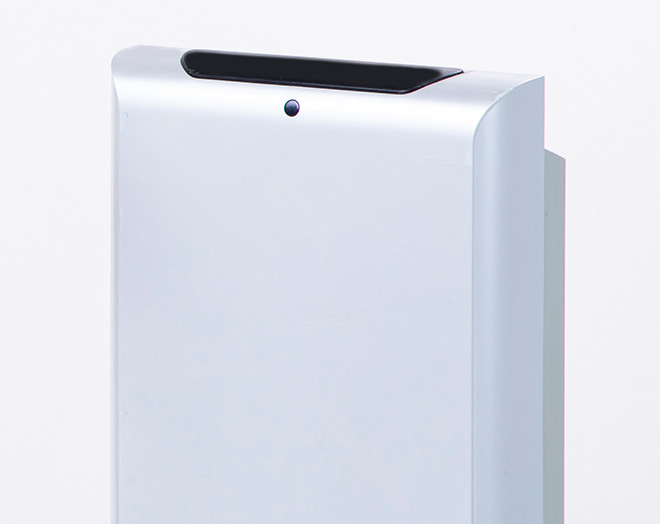 Air circulator
installed
Air circulator that can supply clean air, elimination of dust and germs, is fully equipped in OR to prevent infection.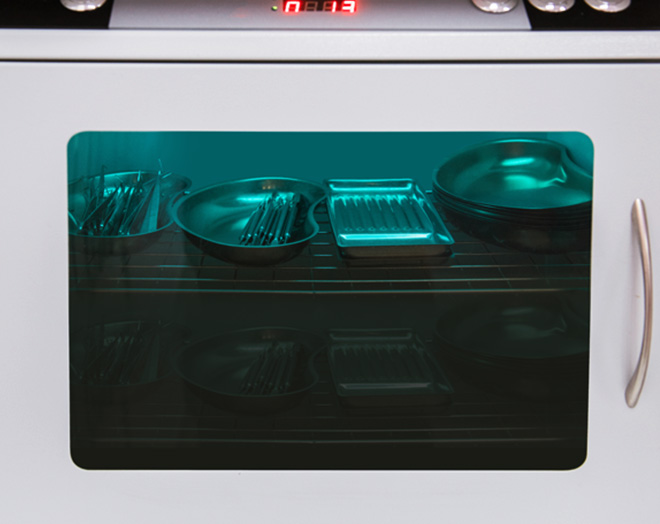 Management of
medical tools
All medical tools that can be easily contaminated are thoroughly sanitized and sterilized for prevention of infection.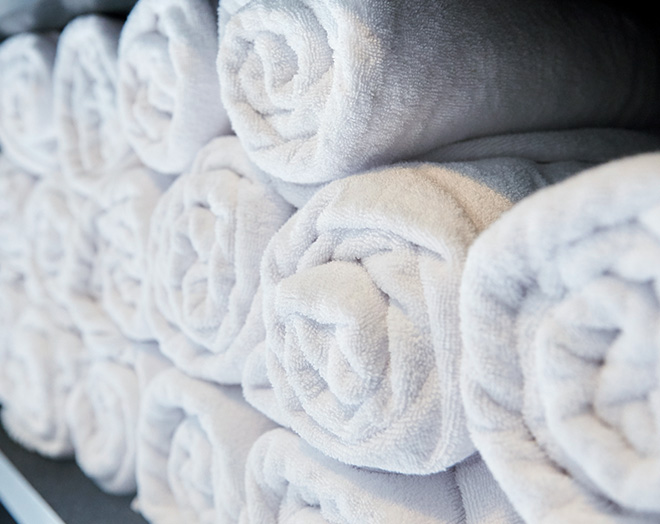 Management of
laundry
Professional laundry services are used for patient gowns, scrubs, OP drapes, etc. to aim the sanitized laundry through strict monitoring of infection or inflammation.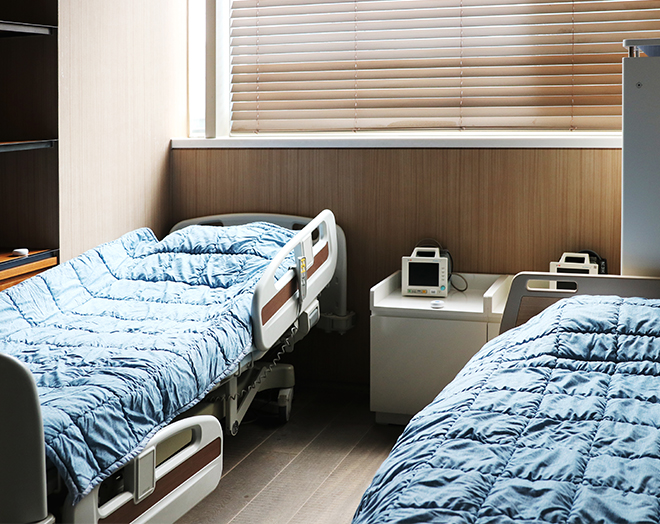 Management of
inpatient rooms
Comfortable inpatient rooms are available to ease the whole surgery process of foreign patients. Professional, detailed care services are offered during their stay.
Collaboration of specialists in various fields for professional, high-quality customized solution for each patient
Grand Plastic Surgery has a systematic care system consisted of various specialists such as plastic surgeon, dermatologist, oral & maxillofacial surgeon, and anesthesiologist.
Improvement in patient's appearance in most ideal, beautiful way is possible as 1:1 customized surgery is planed through detailed examination.
No. 1 in Plastic Surgery - Brand Award

2019 Medical Korea Awards
- Grand Prize in Plastic Surgery

No. 1 in Anti-Aging Plastic Surgery

Sponsored by Russian Ministry of Health
Healthy Life Forum: Towards 80+
Invited Speaker Speech Rhee Sewhan, M.D.

No. 1 in Anti-Aging Brand Awards

2018 KCAI (Korean Consumer Appraisal Index)
- Grand Prize in Anti-Aging Surgery

Giving & Sharing - Social Contribution Activity

Mongolian Red Cross Appreciation Plaque
Surgery and treatment volunteer for
disadvantaged group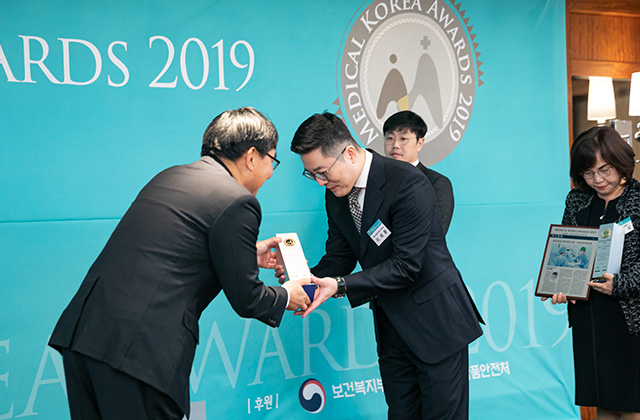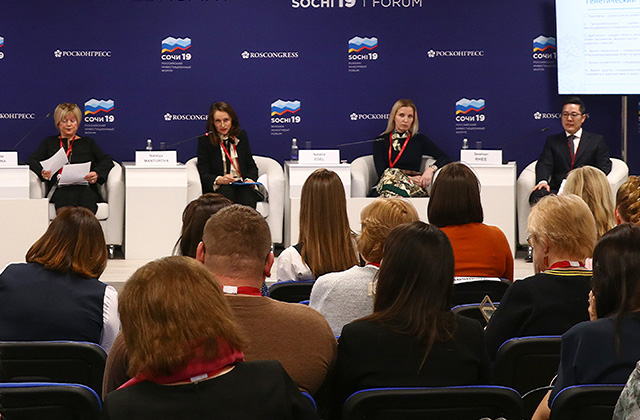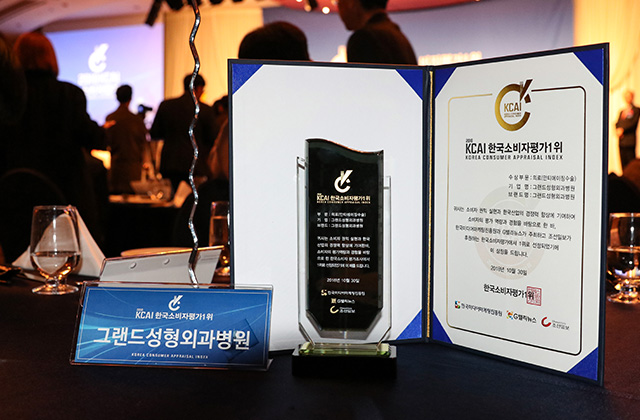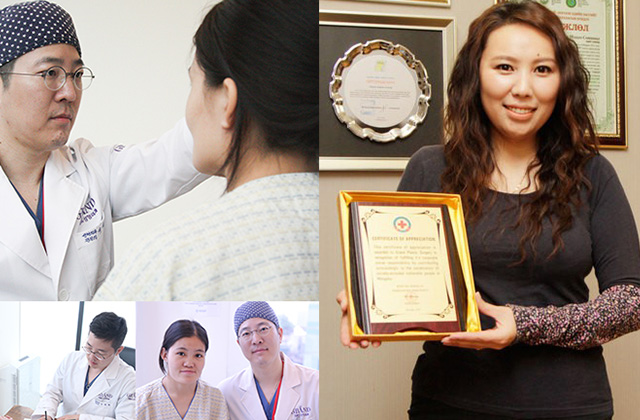 Grand Plastic Surgery
Special Service
for International Patients
1
Airport Transfer Service
Professional driver is assigned for patients from other countries to assist them from/to the airport to clinic.
Grand Plastic Surgery
Special Service
for International Patients
2
Hotel Reservation Service
We provide hotel reservation service for patient's comfort before and after surgery.
Grand Plastic Surgery
Special Service
for International Patients
3
24-hour Direct Consulting Service
24-hour direct consulting service is possible for patients residing outside of Korea. Consultation will be arranged to be at the time upon patient requests.
Grand Plastic Surgery
Special Service
for International Patients
4
1:1 Translator Service
Consultants in English, Chinese, Russian, Japanese, Mongolian, Vietnamese and Thai assist patients throughout the whole process of Consultation-Surgery-Recovery-Post-operative care-Discharge.
Grand Plastic Surgery
Special Service
for International Patients
5
Multilingual Website
We provide accurate information about plastic surgery by operating our website in multiple languages for international patients. Please request an online consultation for a prompt reply.
Please follow the instructions for
the best results of the surgery!
Before and after
surgery guide
1

On the day of surgery, it's recommended to dress comfortably and to bring a hat, sunglasses, glasses, scarves, etc.

2

If you are taking any medication, please tell your doctor in advance. You have to stop taking your medication from 7 to 10 days before the surgery. (Aspirin, painkillers, etc.)

3

If you have symptoms of cold and flu, high fever, severe phlegm or cough, it is recommended to postpone the surgery.

4

Please stop smoking and drinking three days before the surgery.

5

Please do not eat or drink anything from 6 hours before the operation.(Including candy, gum, beverage, coffee, water)

6

Driving immediately after surgery is dangerous, so please use public transportation or come with your guardian.

1

Try not to move your arms for 48 hours after surgery and rest.

2

Do not raise your arms above shoulders for 2 weeks after surgery and do not lift anything heavy.

3

Do not remove the tapes off the breasts on your own as they play important role in bleeding control and progress.

4

Quick shower is possible after 7 days from surgery.

5

Avoid laying face down while sleeping and keep head 20-30 degrees higher than heart by having 2-3 pillows under the head to help with swelling and pain relief.

6

You may experience most swelling up to 48 hours after surgery. Use an ice pack for 3 days and a warm pack from the 4th day.

7

Avoid drinking and smoking for faster recovery. If unavoidable, they can be done 3-4 weeks after surgery.

8

Avoid going to the sauna or hot spring for 3 weeks after surgery.

Postoperative swelling and bruising may vary depending on the individual's constitution
CONSULTATION INQUIRIES
Our consultant will contact you shortly if you leave your inquiry here.