Home
Revision Center
Grand's Revision Surgery Center
With precision and prudence as it is your last surgery
Grand
Revision
Surgery Center
Grand won't give up no matter how complicated your case is.
Until you regain your lost beauty and broken heart.
01
Revision Double eyelid surgery
Revision surgery is more complex and difficult due to damaged tissues existed from previous surgery. Exact cause of failed surgery such as multiple creases, asymmetry, low fold, unnatural fold, or sever scarring needs to be accurately determined and surgery has to be done accordingly.
Multiple creases + Asymmetry

High fold + Asymmetry
As nose being in the center of face, subtle difference can lead to a major change in result.
Exact cause of failed surgery such as short nose, deformed nose due to contraction caused by inflammation, deviated nose, or unnatural nose needs to be accurately determined and surgery has to be done accordingly.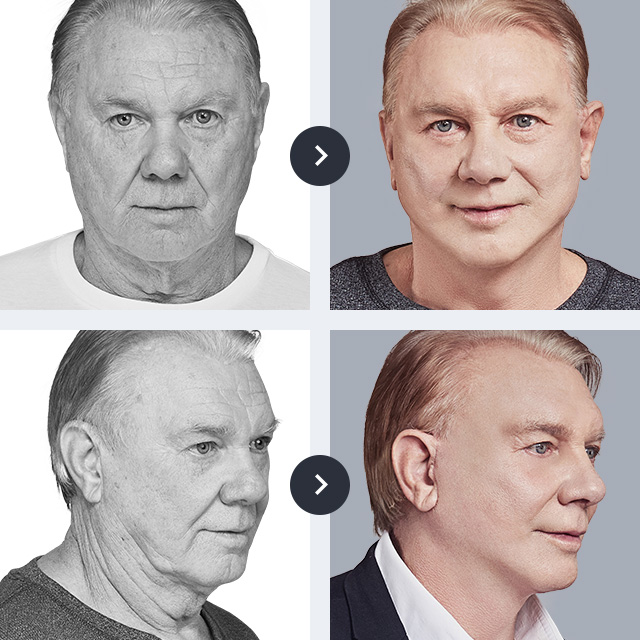 03
Revision
Face & Neck Lift
Face lift requires advanced surgery techniques due to possibility of facial nerve damage. If the sunken cheeks, sagging jowl and neck were not improved dramatically from previous surgery, revision surgery can be done by lifting and fixing the SMAS layer.
04
Revision
Breast Surgery
Capsular
contracture

In case of capsular contraction when the breast shape is changed and the breast becomes hard, implant is repositioned or replaced with new implant.

Asymmetrical
breasts

Size correction is required if there is asymmetry due to implant size difference.

Unsatisfactory shape or size

Relocating of current implant or replacing it with new implant that is more suitable for patient's body structure helps with improvement of breast shape and size.

Implant
deformation

If implant deformation or damage is detected, implant is removed or replaced with a new one.
Revision surgery is more complicated than initial surgery -
Let Grand make this your last surgery
Grand Plastic Surgery
Revision Surgery System
01 Identify the cause
of failure from
previous surgery

03Revision surgery
planning
Grand Plastic Surgery Revision Surgery Center
Professional Medical Team
01
Experienced
Surgeons
do not give up even the most difficult revision cases and bring out the best result based on their rich experiences and know-hows.
02
Collaboration of Plastic Surgeons, Anesthesiologists, Physician, and Gynecologist
make the revision surgery plan more precisely and systematically for successful result.
03
On-site Anesthesiologists
at all times
manage any emergency during surgeries.
No more failure
with Grand
Grand will accurately diagnose the problems from previous surgeries and
provide the solution with successful results.
Grand would be your last chance to regain lost beauty and heal broken heart.
CONSULTATION INQUIRIES
Our consultant will contact you shortly if you leave your inquiry here.