Home
About Grand
Grand Safety System
"Impeccable, Thoroughly, Precisely"
Grand put patient's safety as top priority.
Grand's
Safety System
We prevent and prepare for medical accidents through specialized,
safe surgery system and strict anesthetic process.
Grand Safety Surgery Specialized System
01

Real-time guardian CCTV observation system

02

Anesthesiologists residing to be prepared for emergencies

03

Laryngeal mask is used during anesthesia to prevent teeth damage

04

Anesthesia accident treatment 'Dantrolen' available

05

University-hospital level advanced medical system fully equipped

06

Operation real-name system to avoid shadow surgery

07

Preoperative health examination of 50 checklist for safe surgery

08

Thorough hygiene management, infection prevention, sterilization, disinfection system
01
Guardian
CCTV monitoring system
To ensure that patients and guardians feel comfortable undergoing the procedure, Grand Plastic Surgery provides real-time monitoring service of the entire operation in a specially prepared CCTV observation room for those who agreed on observing the surgery in advance.
02
365 days 24 hours
Residing Anesthesiologists
Residing anesthesiologists monitor the whole operation in order to take immediate action in emergencies of general aesthesia surgeries that require high skills such as facial contouring surgeries, two-jaw surgery, breast or body contouring surgeries. The anesthesiologists are in charge of deciding the appropriate anesthetic method according to patient's condition and monitoring oxygen saturation, pulse, blood pressure to keep the surgery stable and stay presence until the patient becomes conscious. The presence of anesthesiologist is an important factor of determining safe surgical outcomes.
03
Grand is equipped with latest anesthetic machines of
various kinds for patients' safe anesthesia
ETCO2

Intubation Endoscope

igel
Grand is equipped with high-end anesthetic machine, ETCO2, to accurately detect patient's breathing through monitor during general anesthesia. Intubation endoscope (bronchoscopy) and igel are also used at Grand which helps with minimizing the chance of having sore throat and oral infection after surgery so that patient's safety and comfort during surgery is ensured.

By fully equipped with latest anesthetic machines, Grand will maintain patient's utmost condition during general anesthesia, prevent complication and risks due to surgery, and minimize discomfort that can be caused from anesthesia after surgery.
04
Anesthesia accident treatment
'Dantrolen' available at all times
Although it shows very low incidence rate of 0.0006%, in order to be prepared for 'malignant hyperthermia' (a symptom of general paralysis due to sudden fever) which is one of the side effects of general anesthesia, the only treatment 'Dantrolene' is available to be prepared of any emergency anesthesia accidents. Even though 'Dantrolene' is a rare medicine that not a lot of plastic surgery owns, Grand prepares for all situations and prioritizes patients safety.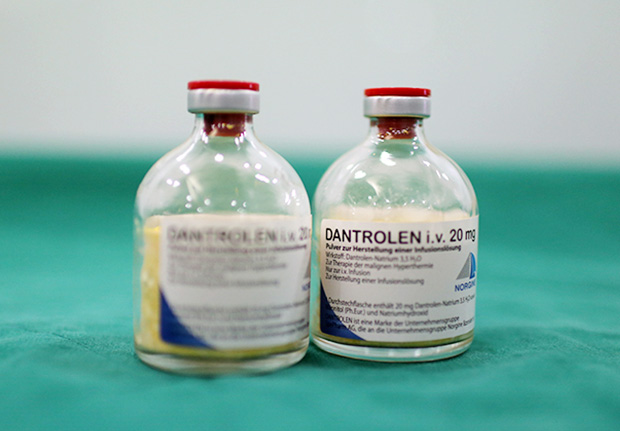 05
University-hospital level of
advanced emergency medical system
Temperature management system

Monitoring system

AED cardiac defibrillator

UPS self-power generation supply

Emergency cart
06
Operation
real-name system
As 1:1 surgeon is in charge of the whole procedure from consultation to surgery and post-operative care, the damage of shadow surgery is prevented and allows the surgeon to take full responsibility from the beginning to the end.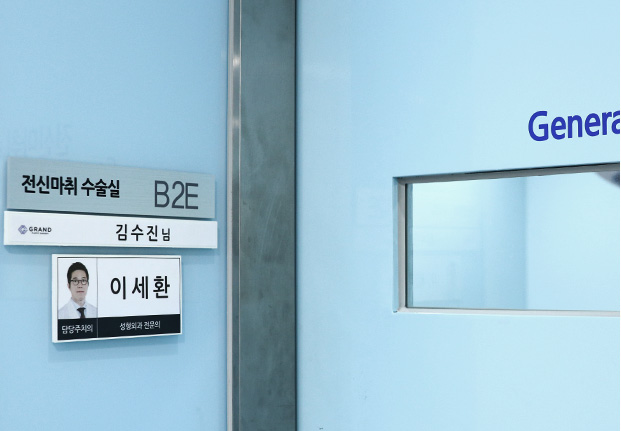 07
Operating room
sterilization system
In order to prevent infection, air purifier is installed in operating rooms, and all medical equipments are sterilized, disinfected and cleaned thoroughly. Patient gowns, surgical clothing, surgical cloths and medical staff uniforms are outsourced to a professional laundry company that provides sterilization laundry service to reduce the probability of infection and inflammation.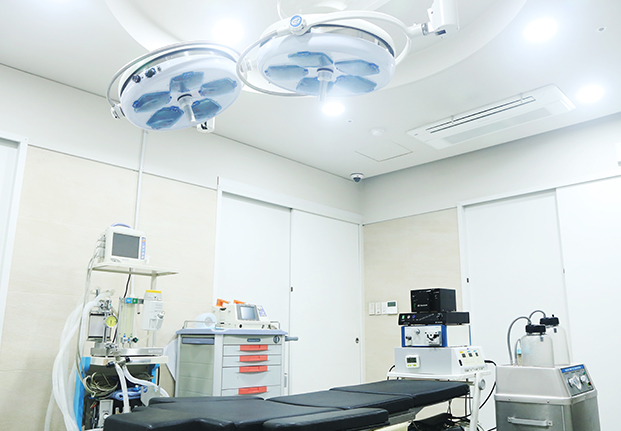 08
Preoperative comprehensive
Health Examination of
50 checklists
Thorough accurate analysis and precise diagnosis based on examination of 50 checklists including 3D-CT, complications that may occur after surgery are prevented, and whether surgery can be performed or not is confirmed after safe surgery is ensured.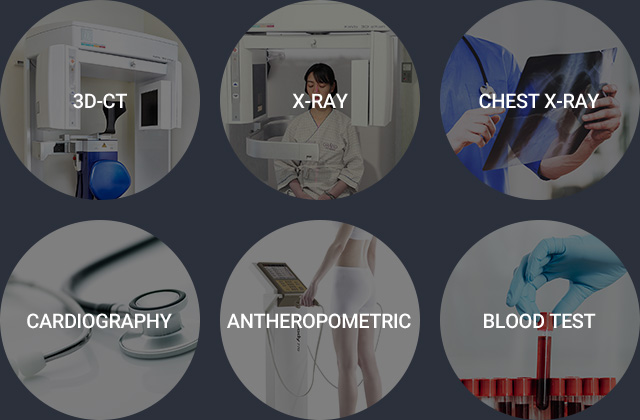 Sanitation is also safety
Grand Clean System
Air purifier
equipped
In order to prevent infection, air purifier is installed in operating rooms to provide clean air and remove dust and germs.
Medical equipment
management
All medical equipments that are easily contaminated with microorganism are thoroughly disinfected and managed to prevent any possible medical infection.
Laundry
management
Patient gowns, medical staff surgical clothing, surgical cloths, etc are outsourced to a professional laundry company for thorough management of infections and inflammation.
Patient room
management
For overseas patients, we provide professional, considerate care and optimal services by providing a comfortable patient room for hospitalization after surgery.
CONSULTATION INQUIRIES
Our consultant will contact you shortly if you leave your inquiry here.