Grand News
GRAND PLASTIC SURGERY
Grand Plastic Surgery, strengthening its quarantine system and operating CCTV in the surgery room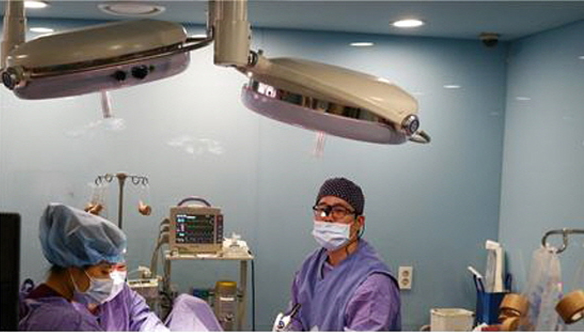 The number of Corona-19 confirmed cases in Seoul and some parts of the country are increasing again. In response, Grand Plastic Surgery is strengthening its hygiene management and quarantine system of the medical team and staff to prevent coronavirus infection.
All staff members assist the customers with a mask on, and hand sanitizer is placed on all floors of the hospital. Air purifiers and disinfection systems are fully functioning in the hospital to respond to the virus infections, and all customers and visitors are restricted in entering without a personal mask. Also, only one guardian per patient can accompany after checking the temperature and health checklist.
When the reserved patient visits the hospital, oversea travel history is checked, and customers who have visited overseas or had contact with a confirmed patient within the past two weeks are asked to visit the hospital after the 14 days.
Along with the COVID-19 prevention measures, CCTV operation system, which allows the guardian to monitor the entire process, is operating to protect the patient's right and relieve the concerns of their guardian.
CEO Rhee Sewhan M.D, of Grand Plastic Surgery, said, "We want to support our patient's emotional stability through COVID-19 preventive measures and operating CCTV in the surgery room. This system will also encourage responsibility to the medical team and protect the safety and rights of our patients."
---
No
Title
30

Grand Plastic Surgery implementing continuous COVID-19 quarantine m...

2020-10-06

29

Grand Plastic Surgery, Patient Protection with operation room CCTV ...

2020-10-06

28

Grand Plastic Surgery, COVID-19, Self-Responsive Manual Education f...

2020-08-29

27

Grand Plastic Surgery Campaigns to Eliminate Ghost Surgery and Prot...

2020-08-28

26

Grand Plastic Surgery, Resonds to the upgrading of Covid-19 Social ...

2020-08-27

25

Grand Plastic Surgery COVID-19 Strict Response to Proliferation

2020-08-24

24

Grand Plastic Surgery prepares best measures for patient safety in ...

2020-08-24

23

Grand Plastic Surgery, Operation room CCTV System for Patients.

2020-08-07

22

Grand Plastic Surgery, operating CCTV in the surgery room and condu...

2020-08-06

21

Grand Plastic Surgery, CCTV operation and campaign to eradicate gho...

2020-08-03

20

CCTV operation, 1:1 customized care needs to be checked before havi...

2020-07-28

19

Grand Plastic Surgery, strengthening its quarantine system and oper...

2020-07-20

18

Generation in their 50s and 60s who want to look younger, has a hig...

2020-07-18

17

Inquiry regarding nose tip surgery increases due to extended time f...

2020-07-05

16

Grand Plastic Surgery, increasing inquires due to COVID-19 emergenc...

2020-06-30

15

Grand Plastic Surgery Clinic conducts temporary Video Consultation ...

2020-06-24

14

Grand Plastic Surgery, responding to the spread of COVID- 19 linked...

2020-06-18

13

Open recruitment in Grand Plastic Surgery, Web Designer and Video E...

2020-06-15

12

Grand Plastic Surgery, continuous prevention of COVID-19 by providi...

2020-06-07

11

Grand Plastic Surgery offers Accommodation Service for overseas and...

2020-06-01