Grand News
GRAND PLASTIC SURGERY
Grand Plastic Surgery prepares best measures for patient safety in the COVID-19 crisis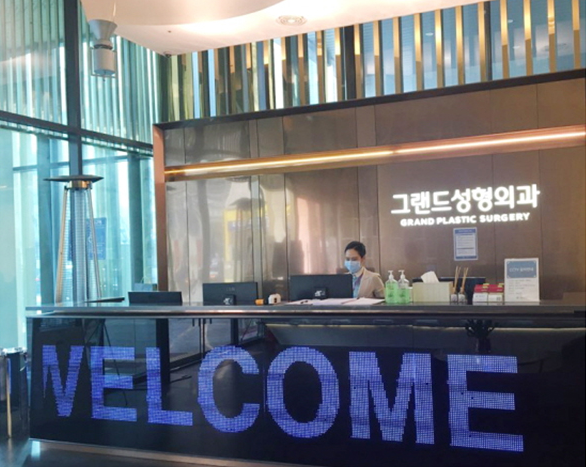 As the number of confirmed Corona 19 patients has increased by more than 2,000 in a week, a thorough response to the re-proliferation is needed. In response, Grand Plastic Surgery is conducting internal action guidelines and quarantine activities to prepare the best measures for the safety of patients in the COVID-19 crisis.
Inpatients should refrain from going out and watch out for passing on virus on inside the clinic. Because it is directly related to the safety of patients, Grand Plastic Surgery has created and implemented COVID-19 behavioral guidelines for all employees, including medical staff and nurses.
All employees refrain from going out to various gatherings outside of their working hours and work at home at least once a week to prevent infection.
In addition, all employees and visiting customers can enter the clinic after checking their body temperature and health checklists are completed, and then checking for any abnormalities.
All employees and visiting customers in the hospital are required to wear masks, and if any employees and customers show symptoms such as fever, chills, headaches, coughs, and difficulty in breathing, prevention of contact with other people is done first and reported to the Korea Centers for Disease Control and Prevention or health center.
CEO Rhee Sewhan, M.D, the head of Grand Plastic Surgery, said, "We need to thoroughly prevent infections of medical staff and all employees so that we can take responsibility for the health of patients. We will conduct health care and occasional health checks to ensure that we are fully prepared for the re-proliferation of COVID-19, we will also do our best to manage the patients that visits us here in the clinic and prevention of the virus"
COVID-19 goes through the incubation period of about 2-14 (estimated) and has respiratory symptoms such as fever (37.5 degrees) and difficulty in coughing or breathing, as well as pneumonia, but there are rare cases of an asymptotic infection. It is known to be infectious even during incubation periods, when symptoms are not present, and this causes a dark infection.
Therefore, even if there are no special symptoms, should do best to prevent the disease.
---
No
Title
50

Some South Koreans prepare for post-pandemic days with a facelift

2021-04-25

49

Grand Plastic Surgery, Increased Lifting Patients due to COVID-19as...

2021-01-22

48

Grand Plastic Surgery, If You Have Lost Skin Elasticity Due to Masks?

2021-01-21

47

Grand Plastic Surgery, How to Manage the 'Sudden' Weight Gain Due t...

2021-01-14

46

Since last Friday, the number of new COVID-19 confirmed has increas...

2020-12-18

45

Grand Plastic Surgery, Conversion to emergency work to the most new...

2020-12-17

44

Grand Plastic Surgery, COVID-19 emergency response by strengthening...

2020-11-30

43

Grand Plastic Surgery, 'COVID-19 has Different Symptoms from a Cold...

2020-11-30

42

Grand Plastic Surgery, Thorough Personal Prevention in Covid-19 Crisis

2020-11-27

41

Grand Plastic Surgery responds to the spread of covid019

2020-11-25

40

Grand Plastic Surgery will overcome the biggest crisis in Covid-19

2020-11-24

39

Grand Plastic Surgery strengthens quarantine management due to incr...

2020-11-10

38

Grand Plastic Surgery, special quarantine management 5 stages of co...

2020-11-09

37

Grand Plastic Surgery must keep safety with personal quarantine rul...

2020-11-03

36

Grand Plastic Surgery strengthens covid-19 quarantine management af...

2020-11-03

35

Grand Plastic Surgery implements work-rotation due to the prolonged...

2020-10-30

34

Grand Plastic Surgery, ensuring the cleanliness and hygiene of the ...

2020-10-16

33

Grand Plastic Surgery strengthens the preventive measures of COVID-19.

2020-10-16

32

Grand Plastic Surgery, protecting the patients from COVID-19 throug...

2020-10-13

31

Grand Plastic Surgery maintains 'patient distancing' despite the al...

2020-10-13