Grand News
GRAND PLASTIC SURGERY
Grand Plastic Surgery, operating CCTV in the surgery room and conductinga campaign to eradicate ghost surgery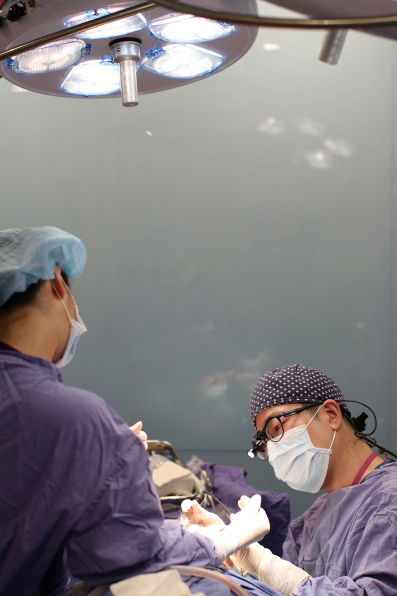 Safety is the most crucial thing in cosmetic surgery done throughout the body from facial surgeries to body contouring, and it should be followed by the protection of patient's rights and the responsibility of medical staff and medical institutions.
Grand Plastic Surgery is working on campaigns against ghost surgery and protecting patient's rights through operating CCTV in the surgery room as well as surgery real-name system and emergency medical system to ensure patient rights and safety.
The main purpose of CCTV operation in the surgery room is to relieve the patient's anxiety and their guardians. Still, it also works as a strategy to prevent ghost surgery, as the guardian can monitor the entire process from the beginning to the end.
CEO Rhee Sewhan M.D of Grand Plastic Surgery (Plastic Surgeon), said, "Protecting patient's rights and safety has to be prioritized in plastic surgery, and our emergency medical system, CCTV operation in the surgery room and a surgery real-name system allows us to do so."
He added, "As the summer vacation season approaches, various promotions are being offered by plastic surgery clinics, but rather than simply deciding the surgery based on prices or reviews, it is important to understand the side effects and precautions that may occur before making the decision. Also, we recommend checking if the clinic has its system to protect the patient's safety and rights, and if it's actually operating.
Since 2015, Grand Plastic Surgery has been operating CCTV in the surgery rooms and surgery real-name system to protect patient's rights and eradicate ghost surgery. Besides, the hospital has recently taken measures to prevent infection of the coronavirus by taking timely measures such as quarantine and thorough patient management. Also, they are preventing the infection by installing air purification and sterilization systems.
---
No
Title
50

Some South Koreans prepare for post-pandemic days with a facelift

2021-04-25

49

Grand Plastic Surgery, Increased Lifting Patients due to COVID-19as...

2021-01-22

48

Grand Plastic Surgery, If You Have Lost Skin Elasticity Due to Masks?

2021-01-21

47

Grand Plastic Surgery, How to Manage the 'Sudden' Weight Gain Due t...

2021-01-14

46

Since last Friday, the number of new COVID-19 confirmed has increas...

2020-12-18

45

Grand Plastic Surgery, Conversion to emergency work to the most new...

2020-12-17

44

Grand Plastic Surgery, COVID-19 emergency response by strengthening...

2020-11-30

43

Grand Plastic Surgery, 'COVID-19 has Different Symptoms from a Cold...

2020-11-30

42

Grand Plastic Surgery, Thorough Personal Prevention in Covid-19 Crisis

2020-11-27

41

Grand Plastic Surgery responds to the spread of covid019

2020-11-25

40

Grand Plastic Surgery will overcome the biggest crisis in Covid-19

2020-11-24

39

Grand Plastic Surgery strengthens quarantine management due to incr...

2020-11-10

38

Grand Plastic Surgery, special quarantine management 5 stages of co...

2020-11-09

37

Grand Plastic Surgery must keep safety with personal quarantine rul...

2020-11-03

36

Grand Plastic Surgery strengthens covid-19 quarantine management af...

2020-11-03

35

Grand Plastic Surgery implements work-rotation due to the prolonged...

2020-10-30

34

Grand Plastic Surgery, ensuring the cleanliness and hygiene of the ...

2020-10-16

33

Grand Plastic Surgery strengthens the preventive measures of COVID-19.

2020-10-16

32

Grand Plastic Surgery, protecting the patients from COVID-19 throug...

2020-10-13

31

Grand Plastic Surgery maintains 'patient distancing' despite the al...

2020-10-13