Grand News
GRAND PLASTIC SURGERY
Grand Plastic Surgery, How to Manage the 'Sudden' Weight Gain Due to COVID-19?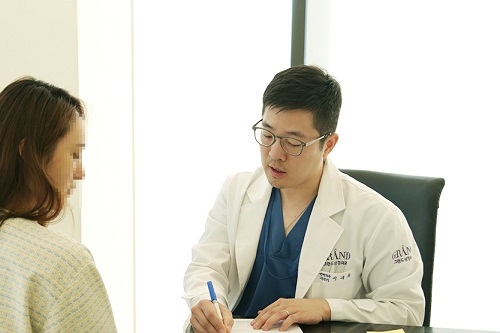 Since COVID-19, more people work from home or stay home without going out. Due to this, many people lack of exercise.
It is best to quickly loose the weight that is gained rapidly. It takes about 14 days for the food to change in to fat, so it is effective when the weight loss is made during this period.
In order to manage weight that has been gained rapidly, diet control must be done first. It is not a surprise that you gain weight if you maintain the amount of food that you intake, but have reduced activity and exercise.
It is recommended to reduce snacks and have meals mostly consisted of high-protein and vegetable. In addition, it is recommended to do aerobic exercise or home training that is available at home.
Grand Plastic Surgery CEO Rhee Sewhan, M.D , said, "As many people stay at home longer due to COVID-19, body contouring consultations are increasing due to sudden weight gain.
Preventing sudden weight gain through a healthy diet and moderate exercise can be the best habit for body shape management.
However, if you have trouble losing weight with these ways, you can solve your problem through liposuction. But liposuction is quite a complicated surgery that requires techniques so it is important to get the surgery performed by a surgeon with rich clinical experience."
---
No
Title
50

Some South Koreans prepare for post-pandemic days with a facelift

2021-04-25

49

Grand Plastic Surgery, Increased Lifting Patients due to COVID-19as...

2021-01-22

48

Grand Plastic Surgery, If You Have Lost Skin Elasticity Due to Masks?

2021-01-21

47

Grand Plastic Surgery, How to Manage the 'Sudden' Weight Gain Due t...

2021-01-14

46

Since last Friday, the number of new COVID-19 confirmed has increas...

2020-12-18

45

Grand Plastic Surgery, Conversion to emergency work to the most new...

2020-12-17

44

Grand Plastic Surgery, COVID-19 emergency response by strengthening...

2020-11-30

43

Grand Plastic Surgery, 'COVID-19 has Different Symptoms from a Cold...

2020-11-30

42

Grand Plastic Surgery, Thorough Personal Prevention in Covid-19 Crisis

2020-11-27

41

Grand Plastic Surgery responds to the spread of covid019

2020-11-25

40

Grand Plastic Surgery will overcome the biggest crisis in Covid-19

2020-11-24

39

Grand Plastic Surgery strengthens quarantine management due to incr...

2020-11-10

38

Grand Plastic Surgery, special quarantine management 5 stages of co...

2020-11-09

37

Grand Plastic Surgery must keep safety with personal quarantine rul...

2020-11-03

36

Grand Plastic Surgery strengthens covid-19 quarantine management af...

2020-11-03

35

Grand Plastic Surgery implements work-rotation due to the prolonged...

2020-10-30

34

Grand Plastic Surgery, ensuring the cleanliness and hygiene of the ...

2020-10-16

33

Grand Plastic Surgery strengthens the preventive measures of COVID-19.

2020-10-16

32

Grand Plastic Surgery, protecting the patients from COVID-19 throug...

2020-10-13

31

Grand Plastic Surgery maintains 'patient distancing' despite the al...

2020-10-13