Grand News
GRAND PLASTIC SURGERY
Grand Plastic Surgery, protecting the patients from COVID-19 through comprehensive quarantine management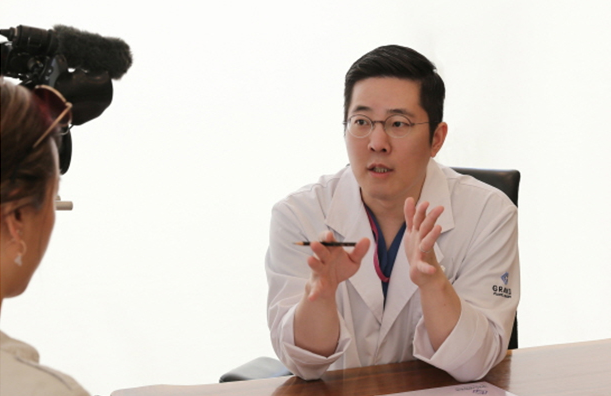 In the past two weeks, the daily confirmed cases of COVID-19 have drooped down to double digits showing stability, and social distancing has been downgraded to level 1. However, on the first-day level 1 was implemented, 102 new confirmed cases were added, showing signs of instability again. Out of the total cases, 33 were confirmed as imported cases from overseas.
Coronavirus goes through an incubation period of around 2-14 days (estimated) before developing fever (37.5), respiratory symptoms such as coughing or breathing difficulties, and pneumonia. Therefore, Grand Plastic Surgery recommends that customers with an overseas travel history for the past two weeks visit the hospital ten days after their arrival.
All employees and visiting customers of Grand Plastic Surgery can enter the hospital after checking their body temperature and filling in the health checklist. They are advised to clean their hands frequently using hand sanitizers or soap under running water for more than 30 seconds. Mask wear is mandated for all employees and visiting customers. If any employee or customer shows symptoms of fever, chills, headaches, coughing, or breathing difficulties, the case is reported to the Korea Centers for Disease Control and in-person contacts are cut off.
"We will do our best to prevent the re-spread of COVID- 19 by thoroughly keeping the quarantine measures, managing customers, being aware of medical staff and all employee's health, and checking their condition frequently," said CEO Rhee Sewhan M.D of Grand Plastic Surgery.
At the same time, Grand Plastic Surgery is equipped with air purification and sterilization system to prevent virus infection, and tools and equipment used by medical staff and patients are thoroughly disinfected and managed. They are also equipped with a system that can monitor the entire surgery process through CCTV in the operating rooms to prevent ghost surgery and relieve the anxiety of the patients and their guardians.
---
No
Title
50

Some South Koreans prepare for post-pandemic days with a facelift

2021-04-25

49

Grand Plastic Surgery, Increased Lifting Patients due to COVID-19as...

2021-01-22

48

Grand Plastic Surgery, If You Have Lost Skin Elasticity Due to Masks?

2021-01-21

47

Grand Plastic Surgery, How to Manage the 'Sudden' Weight Gain Due t...

2021-01-14

46

Since last Friday, the number of new COVID-19 confirmed has increas...

2020-12-18

45

Grand Plastic Surgery, Conversion to emergency work to the most new...

2020-12-17

44

Grand Plastic Surgery, COVID-19 emergency response by strengthening...

2020-11-30

43

Grand Plastic Surgery, 'COVID-19 has Different Symptoms from a Cold...

2020-11-30

42

Grand Plastic Surgery, Thorough Personal Prevention in Covid-19 Crisis

2020-11-27

41

Grand Plastic Surgery responds to the spread of covid019

2020-11-25

40

Grand Plastic Surgery will overcome the biggest crisis in Covid-19

2020-11-24

39

Grand Plastic Surgery strengthens quarantine management due to incr...

2020-11-10

38

Grand Plastic Surgery, special quarantine management 5 stages of co...

2020-11-09

37

Grand Plastic Surgery must keep safety with personal quarantine rul...

2020-11-03

36

Grand Plastic Surgery strengthens covid-19 quarantine management af...

2020-11-03

35

Grand Plastic Surgery implements work-rotation due to the prolonged...

2020-10-30

34

Grand Plastic Surgery, ensuring the cleanliness and hygiene of the ...

2020-10-16

33

Grand Plastic Surgery strengthens the preventive measures of COVID-19.

2020-10-16

32

Grand Plastic Surgery, protecting the patients from COVID-19 throug...

2020-10-13

31

Grand Plastic Surgery maintains 'patient distancing' despite the al...

2020-10-13